Welcome to the McDonald family history website. The McDonald family has a long and rich history in the colonies and early America. The McDonald family boasts some of the most interesting stories, from the wild tales of John McDonald "escaping Scotland by the hair of his teeth" to Horace McDonald fighting bears during the gold rush.
McDonaldHistory.com provides more than just an electronic link for the descendent's of John McDonald and Freelove Bucklin. We provide reassurance that all of the information on our website has been vetted and is as accurate.
McDonaldHistory.com are the virtual shelves for family stories and the pride of heritage. In today's modern world, people move, families disperse, and heritage is often forgotten and lost. Pride, heritage and a sense of who we really are, takes a back seat to life's demands. It is our goal to remember, to share, and to preserve our heritage for future generations. McDonaldHistory.com is one small way of preserving that heritage.
Some McDonald Family Stats

0
Total People In Database (and growing)

In a year that still eludes us, John McDonald ventured from a port in Scotland to the colonies sometime between 1723-1729. We neither know when he was born (though we speculate sometime between 1700-1712) nor the circumstances for whence he came (though a tradition states that he escaped Scotland by the skin on his teeth). John simply appears on the stages of American history in Rhode Island in 1732 filing a marriage certificate with Freelove Bucklin.
Unfortunately, his time in Colonial America was short as he died in 1744 fighting for the Rhode Island Militia at Cape Breton Novia Scotia during the first siege of Louisbourg – a precursor to the French and Indian Wars. Fortunately, John and Freelove had at least five children before he died. We at McDonaldHistory.com are his descendants.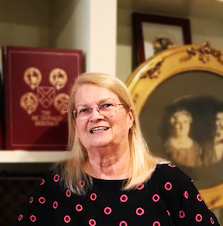 Marcia has been doing McDonald genealogy for almost 20 years. She has a wealth of knowledge about the family and specializes in the McDonald family's migration from Rhode Island to the midwest (Ohio/Illinois regions). Marcia has also traveled extensively to various McDonald family locations including Rhode Island, Novia Scotia, and Scotland.
Marcia Morton
Midwest McDonald Migration
Shawn is our resident McDonald Family DNA expert. He has been tracking and connecting with McDonald's from all over the country for the last 10 years. In addition to DNA, Shawn specializes in McDonald family origins & Scottish history and emigration.
Shawn Marchinek
McDonald Family DNA
Eric is not only the McDonaldHistory.com web developer and designer of McDonaldHistory.com, but he is also an expert in colonial religious history. Eric's main focus is on the McDonald family's migration from Rhode Island to Vermont and Michigan.
Eric English
Colonial Religious History Vermont/Michigan Emigration The Seven Weeks of Hell: the journey to the promised land
To say that the colonial emigrant's journey across the Atlantic was a "difficult one" would be an underestimation of criminal proportions. Reading a single eyewitness account is enough to tie your stomach in knots. When traveling by sea to the colonies rarely did class even matter as most of the time all were placed into [...]
What I wish I knew before I started my genealogy
I never could have imagined that what began as a Christmas gift for my grandfather turned into a passion that has been going on for better than 10 years. In fact, when I started my research the only information I had about my family history was that my great, great grandfather emigrated from Ireland to [...]